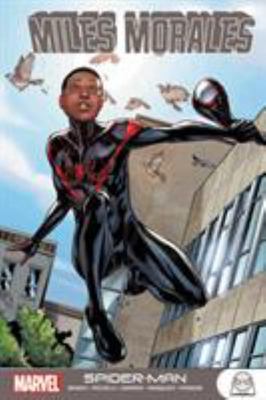 Miles Morales: Spider-Man
by Brian Michael Bendis; Sara Pichelli (Illustrator); Chris Samnee (Illustrator); David Marquez (Illustrator)
$26.99
AUD
Category: Graphic Novels
When Peter Parker falls, the world needs a Spider-Man - and young Miles Morales takes up the mantle! Before Peter died, Miles was poised to start the next chapter in his life in a new school. Then, a spider's bite granted the teenager incredible arachnid-like powers. Now, Miles has been thrust into a wo rld he doesn't understand, with only gut instinct, his well-intentioned best friend Ganke and a little thing called responsibility as his guides. But what was the story behind the spider that bit him? How is Miles going to get his hands on a cool new costume? And is there any way he can be ready to face the deadly sting of the Scorpion? Find out if Miles Morales can live up to the legacy of Spider-Man! ...Show more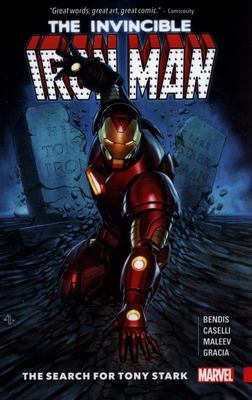 $49.99
AUD
Category: Graphic Novels
The search for Tony Stark begins The former Iron Man has vanished. And, as the mystery of his whereabouts deepens, and some very surprising people from Tony Stark's present, past and future come together to help in the hunt, the time comes to decide - once and for all - who will wield the armor of Iron Man All the contenders are in position, and now the contest begins...for there can only be one Golden Avenger But will it be Riri Williams, Tony Stark...or Victor Von Doom? And what happens when Riri and Victor realize that they must join forces to solve the mystery of Tony's fate? The path to the most startling Iron Man story ever begins here COLLECTING: INVINCIBLE IRON MAN 593-600 ...Show more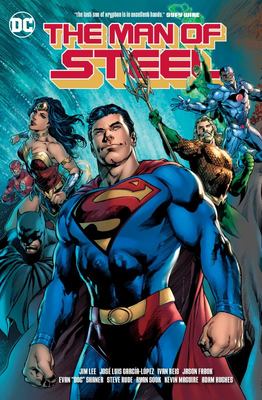 The Man of Steel
by Brian Michael Bendis; Jason Fabok (Illustrator); Adam Hughes (Illustrator); Ivan Reis (Illustrator); Ryan Sook (Illustrator)
$44.99
AUD
Category: Graphic Novels
Genre-defining author Brian Michael Bendis makes his triumphant debut at DC Comics, as an alien being comes to Earth to kill Superman and finish the mission he first started decades ago: destroying the planet Krypton and killing every last Kryptonian One of the genre's greatest mythologies is turned on its head in Man of Steel A new era begins for Superman as a threat name Rogol Zaar comes to Earth to put an end to Superman and his cousin, Supergirl. How will the Last Son and Daughter of Krypton survive a threat that destroyed almost all of their kind? As his world comes down around him, Clark Kent must also wonder: what happened to his wife and son, Lois Lane and Superboy? Brian Michael Bendis, the scribe behind some of the greatest comics of all time, including Ultimate Spider-Man, New Avengers and Daredevil, dives headlong into the DC Universe in this precursor to his debuts on both Superman and Action Comics. Featuring stunning art by some of comics greatist artists including Ivan Reis, Evan "Doc" Shaner, Ryan Sook, Kevin Maguire, Adam Hughes, and Jason Fabok. Collects issues #1-6 and stories from DC Nation #0. ...Show more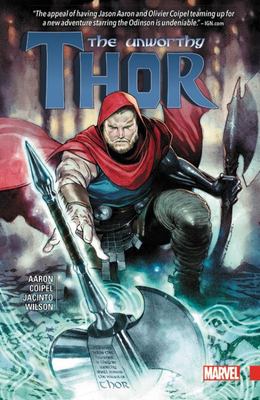 $32.99
AUD
Category: Graphic Novels
Unfit to lift his hammer, with another now wielding the power of Thor, the Odinson's desperate quest to regain his worthiness takes him out into the cosmos - where he's learned of the existence of a mysterious other Mjolnir! This weapon of ultimate power, a relic from a dead universe, is the key to the Odinson's redemption - but some of the greatest villains of the Marvel Universe are anxious to get their hands on it as well. And when the Realm of Old Asgard vanishes, the Odinson's hopes might go with it - unless good tidings from Beta Ray Bill offer fresh hope! Can the Odinson reclaim his honor, or will the power of thunder be wielded for evil? Let the battle for the hammer commence! COLLECTING: THE UNWORTHY THOR 1-5 ...Show more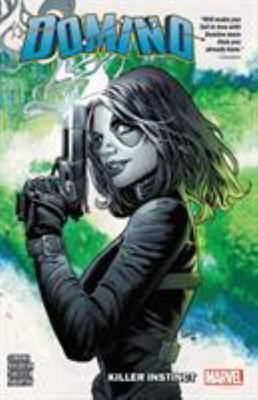 Domino
by Marvel Comics
$36.99
AUD
Category: Graphic Novels | Series: Domino (2018) Ser.
Impossible targets call for impossible shots - and no one can make them like Domino Marvel's #1 soldier of fortune is back in an explosive new series The product of a failed super-soldier program, Neena Thurman always made her own luck as the sharpshooting mercenary known as Domino...but what happens wh en her own powers betray her? The hunter becomes the hunted as every merc in the game smells blood in the water, and Domino's formerly charmed life is turned upside down Plus: A pair of beloved Marvel characters return Amadeus Cho lends a hand And who is Domino's evil counterpart? COLLECTING: DOMINO 1-5 ...Show more
$16.99
AUD
Category: Graphic Novels | Series: Boarding School Juliet Ser.
The Romeo and Juliet high school rom-com that inspired the upcoming anime Rival dorms on an extravagant island campus fight a schoolyard war, but can two star-crossed lovers keep their budding relationship a secret?   Two Dorms, Both Alike in Dignity   The prestigious Dahlia Academy educates the eli te of society from two countries: to the East is the Nation of Touwa; across the sea, the Principality of West. The nations, though, are fierce rivals, and their students are constantly feuding--which means Romio Inuzuka, head of Touwa's first-year students, has a problem. He's fallen for his counterpart from West, Juliet Persia, and when he can't take it anymore, he confesses his feelings. Now Romio has two problems: a girlfriend, and a secret... ...Show more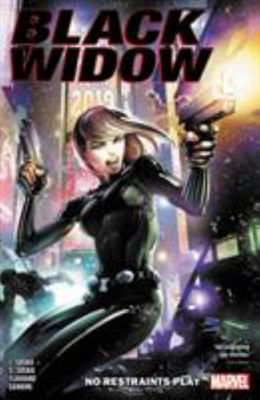 Black Widow - Seeing Red
by Jen Soska; Sylvia Soska; Flaviano (Illustrator)
$32.99
AUD
Category: Graphic Novels
Natasha Romanoff was trained to kill. For years now she's tried to overcome that programming, to side with the angels...to be a hero. And where'd that get her? Killed. By one of the few true friends she allowed herself to have. Now she's back from the dead, angry as hell, and finding those better angels harder and harder to hear. Jen and Sylvia Soska - The Twisted Twins of horror - join with rising artist Flaviano to weave a web of vice, violence, and vengeance that will net Natasha the biggest bad men she's ever faced...or put her back in the ground for good. COLLECTING BLACK WIDOW (2018) 1-5 ...Show more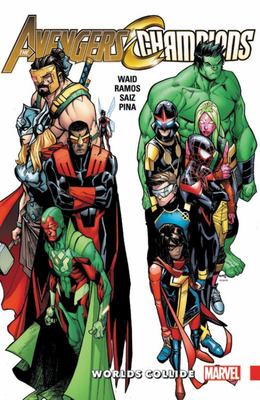 $36.99
AUD
Category: Graphic Novels
Worlds collide! It starts here - the long-promised clash between the Avengers and the Champions! The countdown has started as the High Evolutionary sets the Earth on a collision course with destruction! The Avengers and the Champions are ready to meet this threat--but not everyone agrees how best to com bat it! Since they were old enough to say the word 'Avengers', the Champions have idolised Earth's Mightiest Heroes. Now the two teams are on equal footing - and the Champs are having to walk the walk alongside their former mentors! Will their experiences in Generations help them-or tear the two teams apart? Collecting: Avengers 672-674, Champions 13-15 ...Show more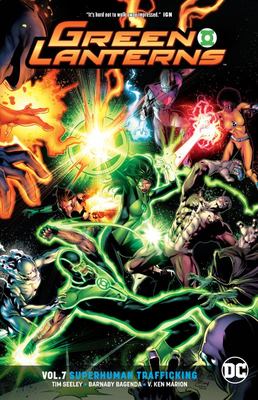 $24.99
AUD
Category: Graphic Novels
When Green Lanterns Simon Baz and Jessica Cruz discover that a number of superheroes have vanished from Earth without a trace, their investigation leads them to a lawless planet where a ring of slavers are forcing super-beings to do their bidding! But the slavers are connected to a powerful religion pr otected from Green Lantern Corps authority, so Jessica and Simon must become converts to infiltrate their sacred space. How will they defeat the church known as the Order of the Steed when the religion's leader has total control over an interplanetary army of superheroes, among them Simon's occasional companion, Night Pilot? Plus, Simon and Jessica are chosen to represent Earth at a once-in-a-millennium ceremony honoring an ancient hero of the Corps, but while there, they uncover a shocking and dangerous secret that's been buried for more than a thousand years! Writers Tim Seeley (Batman Eternal) and Andy Diggle (The Losers) join artists Barnaby Bagenda (The Omega Men), V Ken Marion (Trinity) and more in Green Lanterns Vol. 7: Superhuman Trafficking, collecting Green Lanterns #40-43 and Annual #1! ...Show more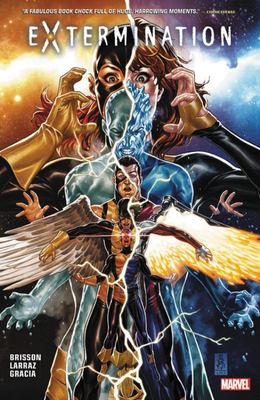 Extermination
by Ed Brisson; Pepe Larraz (Illustrator)
$36.99
AUD
Category: Graphic Novels
Cyclops. Iceman. Angel. Beast. Marvel Girl. The original team of teen mutants brought together by Professor Charles Xavier many years ago have been shunted through time to find a world they barely recognised but were determined to help. Now, finding themselves targeted for death, the future of mutantkin d lays squarely in the hands of its past. Writer Ed Brisson (Old Man Logan, Cable) and artist Pepe Larraz (Uncanny Avengers, Avengers: No Surrender) answer the biggest question of all: Can the fate of the X-Men be changed? Collecting: Extermination 1-5 ...Show more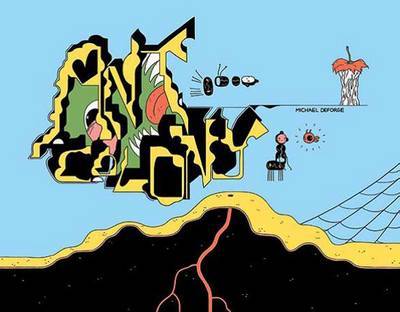 $37.99
AUD
Category: Graphic Novels
BEST OF THE YEAR NODS FROM THE GLOBE & MAILL, AMAZON.COM, QUILL & QUIRE "The Toronto cartoonist's first full-length graphic novel follows a clutch of misfit ants, trying to maintain some semblance of civilization in the shadow of war. Psychedelically gorgeous, uncomfortably funny."-Sean Rogers, Globe & Mail Best Books of 2014The debut graphic novel from a dazzling newcomer with a singular, idiosyncratic styleIn the few short years since he began his pamphlet-size comic book series Lose, Michael DeForge has announced himself as an important new voice in alternative comics. His brash, confident, undulating artwork sent a shock wave through the comics world for its unique, fully formed aesthetic. From its opening pages, Ant Colony immerses the reader in a world that is darkly existential, with false prophets, unjust wars, and corrupt police officers, as it follows the denizens of a black ant colony under attack from the nearby red ants. On the surface, it's the story of this war, the destruction of a civilization, and the ants' all too familiar desire to rebuild. Underneath, though, Ant Colony plumbs the deepest human concerns-loneliness, faith, love, apathy, and more. All of this is done with humor and sensitivity, exposing a world where spiders can wreak unimaginable amounts of havoc with a single gnash of their jaws. DeForge's striking visual sensibility-stark lines, dramatic color choices, and brilliant use of page and panel space-stands out in this volume. ...Show more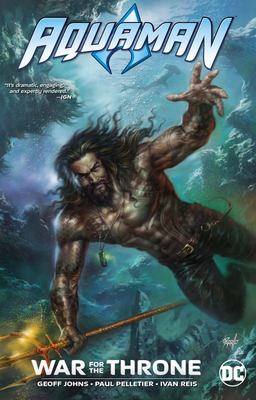 $24.99
AUD
Category: Graphic Novels
Just in time for Aquaman, starring Jason Momoa, comes an epic tale of conflict and conquest from the award-winning author Geoff Johns in AQUAMAN: THRONE OF ATLANTIS! Six years ago he was a surface-dweller, raised as the son of a lighthouse keeper. Then tragedy struck. Destiny was revealed. And young Ar thur Curry claimed his birthright: The Throne of Atlantis. But his reign was brief. When darkness threatened the surface world, he rose to meet it. As Aquaman, he joined the team of heroes called the Justice League, leaving the rule of his kingdom behind. But even underwater, the past will not stay buried. A sinister force is pushing Aquaman's two worlds to the brink of war, with the fate of the planet in the balance. If Arthur does not reclaim his throne, the throne may well claim his life... Collecting Aquaman #0, #14-16 and Justice League #15-17, Aquaman: War for the Throne is an epic tale of conflict and conquest from the all-star creative team of Geoff Johns, Ivan Reis, Paul Pelletier and Pete Woods! ...Show more