1000pc Cat Poster Jigsaw Jumbo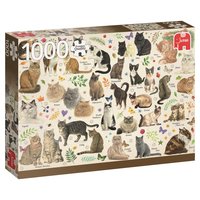 Stock information
: $39

.99

(AUD)

: Jumbo
:
:
:
:
: 8710126185957
: 38.0
: Jumbo
:
: general
: Puzzle measures 49 x 68 cm.
8710126185957
Description


A 1, 000-piece jigsaw puzzle


Produced using a high quality, environmentally friendly, recycled cardboard


Produced using a precision die-cutting technique, to ensure a poster-like finish


Part of Jumbo Premium Puzzle Collection


The finished puzzle measures 68x49cm (approximately)


Cats poster is the title of this wonderful jumbo Premium Collection jigsaw puzzle that illustrates the huge variety of domestic cat breeds. The jumbo premium puzzle collection has been designed and crafted with a passion for excellence for over 160 years and jumbo is extremely proud to celebrate its distinctive quality and innovation with puzzlers. Jumbo's range of its premium puzzle collection will bring you hours of joy and entertainment, as you piece together a variety of themes and challenge yourself to various piece counts, from 200 extra-large piece puzzle, all the way to 5, 000 piece puzzles. Jumbo's extensive premium puzzle collection includes a variety of popular themes that puzzlers love. You can enjoy, photos and illustrations: from wild animals to big cities and from the cutest of pets to amazing glimpses of nature. All jumbo puzzles are produced using an extra fine die-cutter, maintaining an exceptionally high level of quality for enthusiasts the world over. This technique ensures that your finished jigsaw puzzle will have a poster-like finish, so that you can proudly Admirer and display your puzzle once it is complete. The high quality cardboard used to produce Jumbo's puzzle, means that each jigsaw piece will maintain its original shape, time and time again. All Jumbo's puzzles are made of recycled cardboard and the linen-finish paper lends your puzzle a luxurious look. The finished size of this 1, 000-piece jigsaw puzzle measures 68 x 49cm (approximately).